Module: New Employee Onboarding
SAFE DRIVING MODULE FOR NEW DELIVERY DRIVERS AND COURIERS
New Employee Onboarding is our online module to help inexperienced drivers quickly learn the ins and outs of safe, professional driving. The ideal solution for parcel and courier services. Using evidence-based methods for behavioural change, New Employee Onboarding is specifically designed to improve employee safety and reduce staff turnover.
Benefits for organisations:
Effective onboarding of new drivers

Analysis of employee safety perception in real time

Ongoing monitoring of staff departure risks

Three times more effective than regular e-learning

Hassle free with automatic activation and lasting results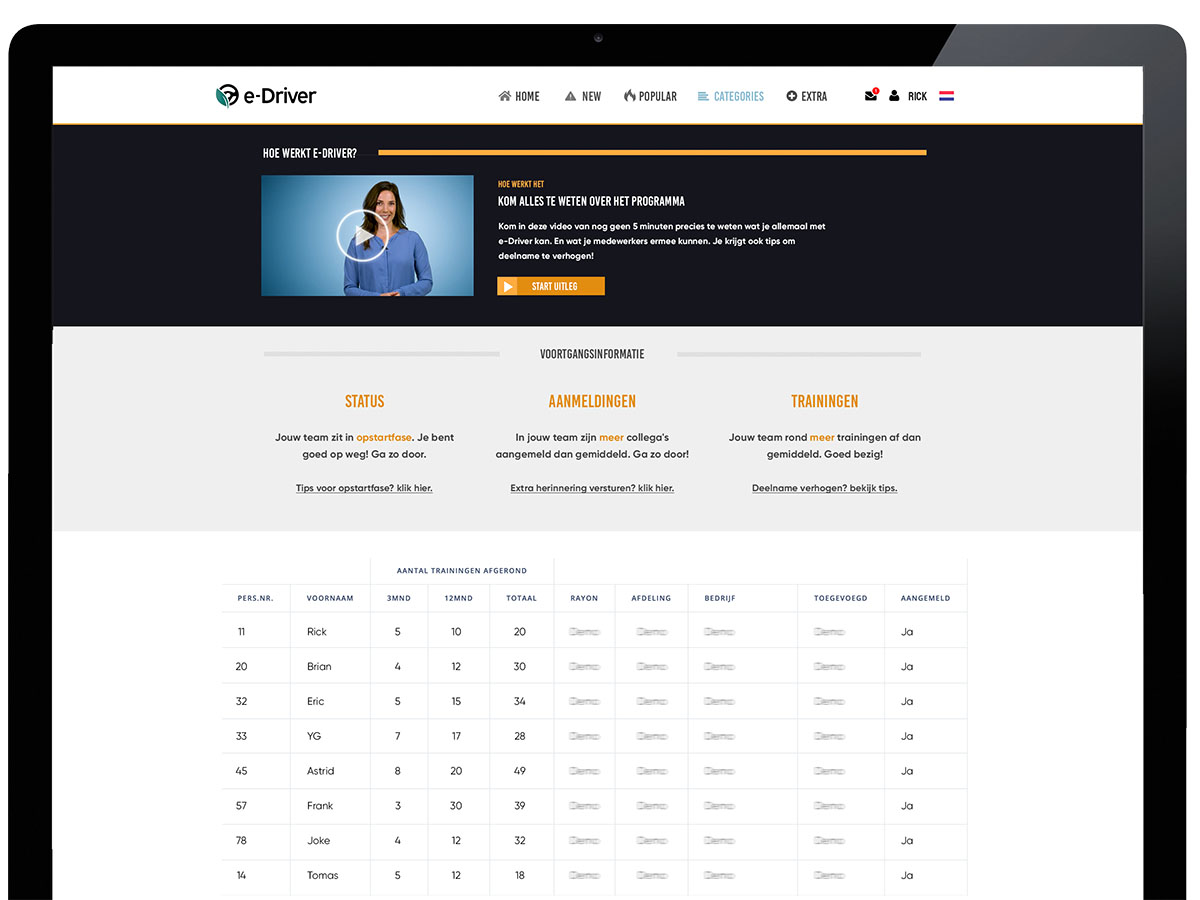 Why New Employee Onboarding?
Parcel and courier services have experienced tremendous growth in the last few years. It is an exciting time. However, the extra demand requires additional drivers and creates more traffic participants, thereby impacting road safety – it is important to note that an inexperienced driver can take the entire length of an average employment contract to learn to drive safely and professionally.
But now there is a better way to onboard drivers. The New Employee Onboarding module swiftly turns inexperienced drivers into safe road users while reducing staff turnover. By providing team leads and coaches with professional tools, the module optimally supports professional development with a minimum loss of working hours. It means parcel and courier services can quickly deploy highly committed drivers. That is no small feat considering the challenges of today's labour market.
Fast-tracking risk awareness and key safety skills
New Employee Onboarding is a special addition to the Activate Safety module. After implementing Activate Safety, organisations will be able to offer new drivers the New Employee Onboarding module as an extra. This user-friendly online training programme allows these employees to quickly level-up their risk awareness and key safety skills. The module also enables direct communication between drivers and team leads.
Automatic drop-out risk alerts
Each week, the module indicates whether participants have met their weekly requirements for safe driving and a committed working relationship. As soon as the system detects a safety risk or a decline in a user's participation rate, the team lead receives an automatic alert to schedule a conversation. Team leads have access to an online programme by leadership expert Remco Claassen, who offers useful tips in behavioural change and how you can use these to prepare an effective dialogue. Everybody wins – employees enjoy rapid professional development while organisations retain good drivers.
WHAT SETS NEW EMPLOYEE ONBOARDING APART?
Ongoing analysis of employee safety perception

Realtime updates on staff departure risks

Fast-tracking safe driving skills for new drivers

Highly efficient onboarding for team leads and coaches

Three times more effective than regular e-learning thanks to the X-Learning® method
Curious how e-Driver can help your organisation move towards safe and sustainable traffic participation? Enter your details below and we will get in touch.